5 Next Cryptocurrency to Explode November 2021 Week 1
The cryptocurrency market is surging to new highs. At nearly $2.9 trillion, its total cap has risen by 3.5% in the past 24 hours. Most major cryptocurrencies and many smaller altcoins are partaking in this rally, with the top ten showing growth of anything from 2% to 12% in the past day. But while the market is distributing gains quite evenly, we've put together a list of the 5 next cryptocurrency to explode. This covers coins which have a better-than-average chance of surging past the market average.
5 Next Cryptocurrency to Explode
1. Bitcoin (BTC)
It may take a backseat every once in a while to smaller altcoins, but you can never count out BTC. At $63,000, it's up by 2% in the past 24 hours, and by 4% in the last week. It's also up by 30% in the past month, having hit an all-time high of $67, 276 some 14 days ago.
BTC's 30-day moving average (in red) has begun to overtake its 200-day average (in blue) again. This suggests an increase in momentum and perhaps a push to a new price level. At the same, its relative strength index (in purple) has begun creeping up from 60. Again, this indicates a new push.
There are numerous fundamental reasons which suggest BTC is likely one of the next cryptocurrencies to explode. Last month, the SEC gave the green light to the ProShares Bitcoin ETF, a vehicle that will entice more mainstream investors into the market. Better yet, more Bitcoin ETFs likely to follow, with Grayscale Investments recently applying to turn its bitcoin fund into a spot-based ETF.
And when you add rising inflation into this cocktail, bitcoin really could take off towards the end of the year.
For the most bullish commentators, the cryptocurrency is likely to end 2021 above $100,000. This is what's predicted by the stock-to-flow model, which has proven strangely prescient so far this year.
$63K✅ https://t.co/tj6SSwSzKR

— PlanB (@100trillionUSD) October 19, 2021
2. Ethereum (ETH)
ETH is currently sitting at $4,600, having set a new ATH of $4,634 around ten hours ago. Its present level represents a 3.4% rise in the last 24 hours, as well as a 10% rise in the past week. The coin is also 18% up in the last fortnight and 34% up in the past month.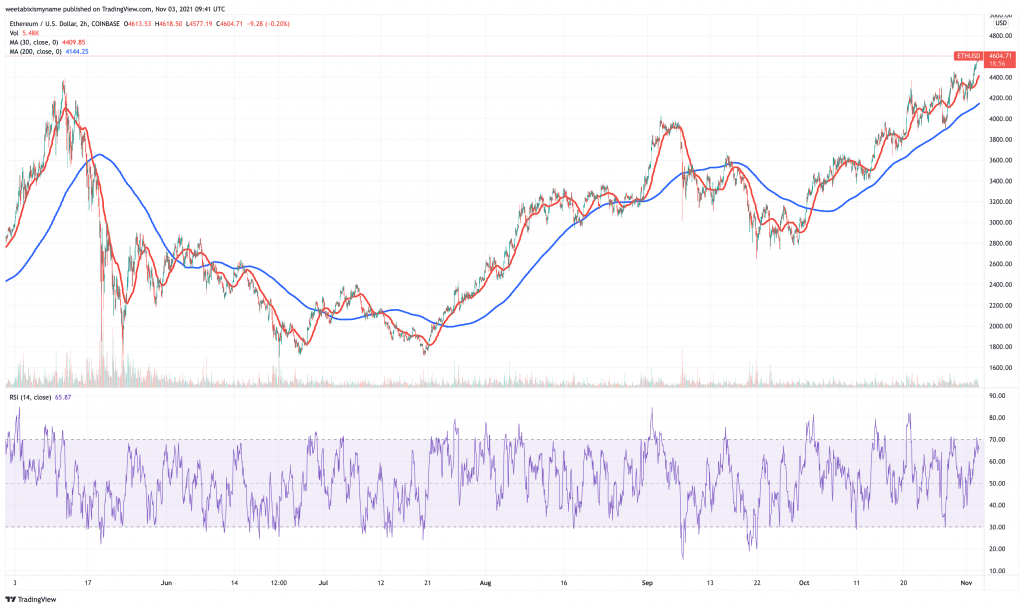 Unsurprisingly, ETH's 30-day average is comfortably above its 200-day average, as you'd expect after setting a new ATH. At the same time, its RSI hasn't quite yet moved into overbought territory. In other words, there's still room for its rally to continue over the next few days.
Looking at the longer term picture, ETH's fundamentals point towards a sustained price increase. Most importantly, the London hard fork from August has resulted in Ethereum burning a portion of its transaction fees, in the process making ETH deflationary.
$ETH price breaking new highs while a record amount of 16.9k ETH was burnt in the past 24 hours

This also brings ETH's issuance to a record low of -1.1% pic.twitter.com/UrG0g0urlO

— Lucas Outumuro (@LucasOutumuro) October 29, 2021
On top of this, an increasing number of ETH holders are sending the cryptocurrency to Ethereum 2.0's staking contract. Indeed, this contract now holds over eight million ETH. This is an impressive figure, and will increase even further as next year's transition to proof-of-stake draws closer.
The amount of $ETH staked in the #Ethereum 2.0 contract recently surpassed the 8mm mark.

There are now 8.02m ETH with an aggregate value of +33.3b👀

Chart: https://t.co/UMGpNAVZ4F pic.twitter.com/768nZO0vH9

— IntoTheBlock (@intotheblock) October 26, 2021
In sum, ETH really does belong in a list of the 5 next cryptocurrency to explode, particularly when you remember that its total value locked has now risen to $172.8 billion. Indeed, even JPMorgan is starting to sing ETH's praises, with a  a report from a few weeks ago revealing that some institutions are beginning to prefer ETH over BTC.
3. Polkadot (DOT)
DOT is up by 3.8% in the past 24 hours, at $51.53. This represents a 14% rise in the last week, as well as a 60% jump in the past month. It's also worth noting that DOT hit a new ATH yesterday, of $53.04.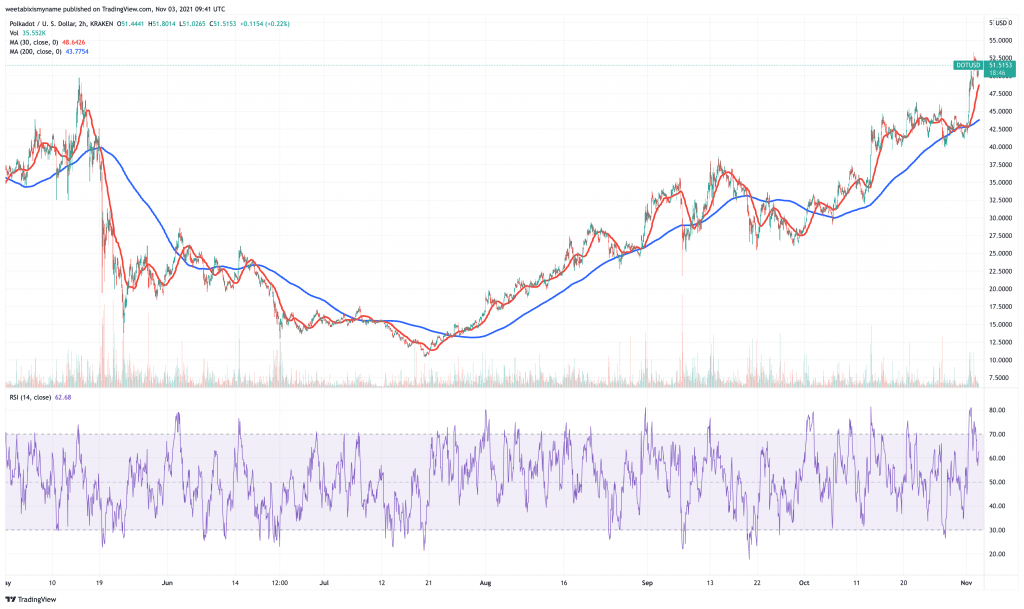 DOT has subsided a little after reaching a new record high yesterday. However, this arguably gives new investors a discounted opening into the market. Because it's very likely that DOT can continue setting new highs in the next few days and weeks.
In particular, Polkadot announced two days ago that its community has approved November 11 as the date for its long-awaited parachain auctions. These will decide which projects get to launch side chains connected with the platform's main relay chain.
The motion to enable parachain registration and crowdloans has passed Polkadot's council and gone to a public referendum. If passed, parachain teams will be able to register their parachain and open their crowdloan on Nov. 4, 2021 at approx. 19:15 CET. https://t.co/5ouDWBmnvc

— Polkadot (@Polkadot) November 1, 2021
These auctions will result in DOT experiencing increased demand. That's because hopeful parachains have to acquire and 'bond' (i.e. lock up) DOT in order to win the upcoming auctions. And with these auctions open to public participation (via platforms such as Kraken and Binance), it's possible that we could see a rush of newcomers looking to acquire DOT in order to get in on the act.
Not only that, but once the auctions have been won, the resulting platforms will obviously provide a new source of demand for DOT. The coin will be needed for staking and for fees, so the more projects that launch on Polkadot in the next few months, the more its price will rise.
This is why it's one of our 5 next cryptocurrency to explode.
4. Decentraland (MANA)
MANA has fallen by some 12% in the past 24 hours, to $2.84. Its current price is, however, a 248% increase over the last seven days.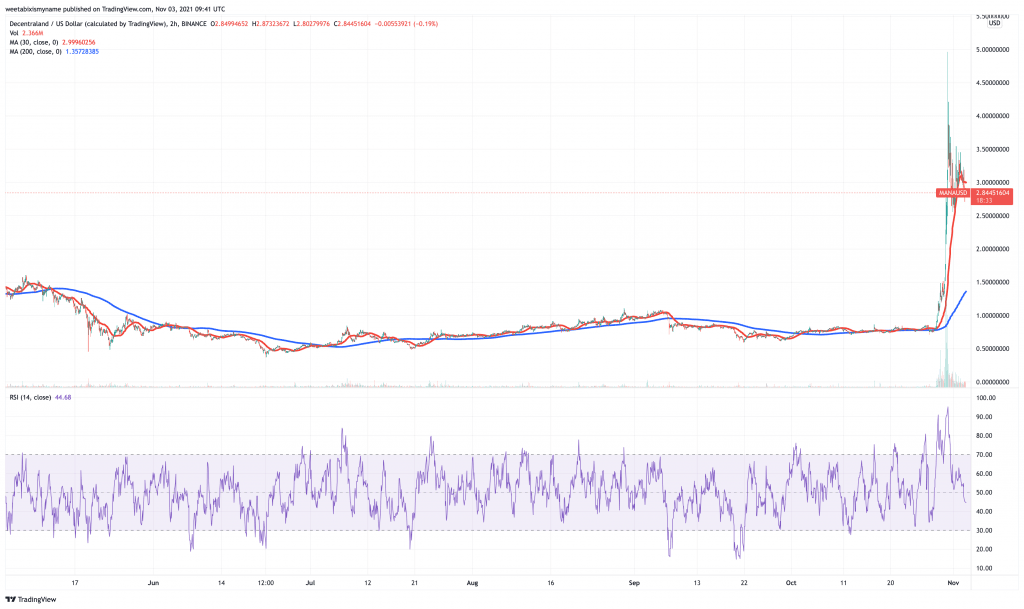 MANA's fall yesterday may be a blessing in disguise though. By dropping a little, it gives newcomers the opportunity to buy it at a more reasonable price. Its RSI has dropped below 50, suggesting that it may be about to start surging again.
And even if its rally over the weekend may have been excessive, MANA has good long-term prospects. With Facebook infamously shifting its strategic focus towards building a metaverse, it's likely that the decentralised open-world video game will increasingly gain publicity. Some market observers have even speculated that Facebook may end up buying Decentraland (although this could potentially risk MANA being regarded as an unregistered security).
Regardless, Facebook's shift has made MANA one of the market's hottest coins right now. And it was doing well on its own account prior to the social network's announcement. For example, it recently hosted its first ever Metaverse Festival, with a range of high-profile acts participating virtually.
Get ready for the #MetaverseFestival, October 21-24. @awonderland, Aluna (of @AlunaGeorge), @3LAU, @deadmau5, @ninanesbitt, @ParisHilton + special guest, and more TBA. Check the DCL blog and official festival site at https://t.co/43otaq99j5 for more details. pic.twitter.com/NXaSetpaco

— Decentraland (@decentraland) October 14, 2021
5. Internet Computer (ICP)
ICP is currently priced at $47.77, representing a 2.2% increase in the past 24 hours. It has also risen by 2% in the past week and by 9% in the last fortnight.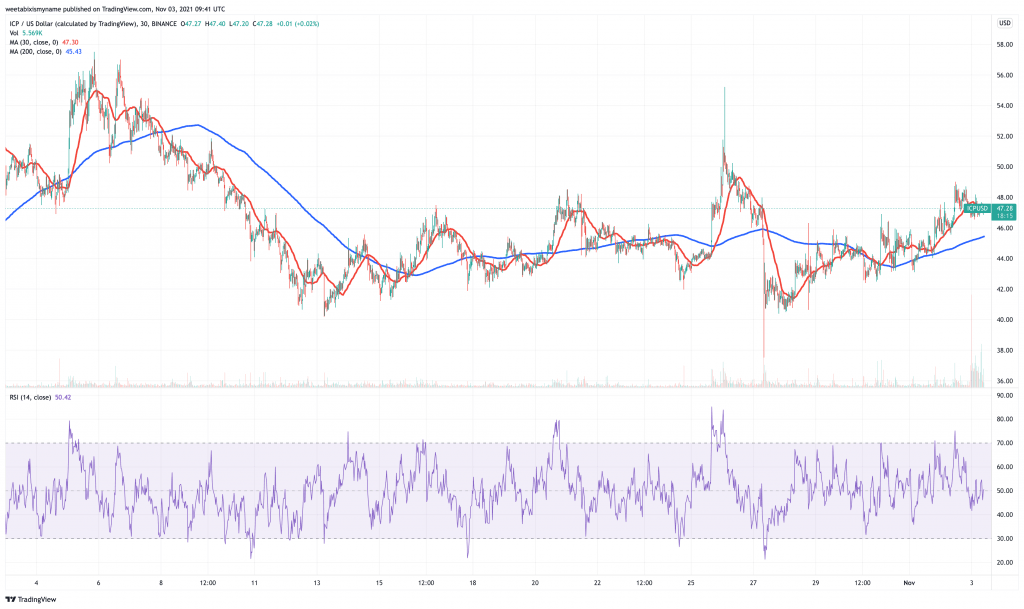 ICP sits at a healthy level as far as investors who like good deals are concerned. Its RSI is hovering around 50, indicating that it's very far from being overbought. Yet its 30-day average has begun moving ahead of its 200-day average, something which may suggest the start of a new movement.
Regardless of whether ICP's eventual rally will come in a week's, month's or year's time, it remains very cheap at $47. This is particularly the case when one factors in the Internet Computer's long-term potential as a platform. Its aiming to build an entirely decentralised version of the internet, running on a distributed network of servers. And given recent outages suffered by the likes of Facebook, such a version of the Web is certainly needed.
Last week's Slack outage and today's Facebook outage enforce that building humanity's mission-critical software on the decentralized #InternetComputer has never been more urgent.

Apply for a grant: https://t.co/ukqv8Vs8w4
Start building: https://t.co/rfPytIMEUS

— DFINITY Foundation (@dfinity) October 4, 2021
Last week, the Internet Computer celebrating having passed 12,000 smart contracts running on its platform. This shows just how quickly development is progressing on its network, which launched only in May.
Canister smart contracts running on the #InternetComputer have surpassed 12,000. 🙌

Canister smart contracts are computational units powered by cycles. The increase speaks to the growing developer activity on the network. 🛠️

Live stats: https://t.co/e4FaOUPSvS pic.twitter.com/NDTeA1femW

— DFINITY Foundation (@dfinity) October 26, 2021
Likewise, the DFINITY Foundation tweeted in the middle of last month that Internet Computer has now generated over 264 million blocks since its launch in May. By comparison, Bitcoin has produced only 708,009 blocks to date. This kind of growth (and capacity) shows why ICP could be one of the 5 next cryptocurrency to explode.
📈This week, the #InternetComputer surpassed 264M blocks generated since Genesis.📈

The block count metric speaks to both the speed and capacity of the #InternetComputer.

Find more live stats: https://t.co/e4FaOV7tnq pic.twitter.com/Jm3WJcUUHj

— DFINITY Foundation (@dfinity) October 18, 2021
Capital at risk