Bitcoin Price Higher as Market Tops $3 Trillion, BNB, PARA, KDA, Nov. 8
BTC
Bitcoin was back above the $65,000 level on Monday with the recent all-time highs back in play.
But the overall cryptocurrency market is playing its part with total valuations passing $3 trillion for the first time. The market dominance of BTC is under 50% and the market cap is being driven by continuing growth in new coins. At present there are now 429 exchanges and over 13,000 coins in circulation, according to coinmarketcap.com.
Investors should capitalize on the current bull run as the SEC Chair Gary Gensler previously had that fact in his crosshairs, saying:
Private monies usually don't last that long. So, I don't think there's a long-term viability for 5,000 or 6,000 private forms of money. History tells us otherwise. So, in the meantime, I think it's worthwhile to have an investor protection regime placed around this.
The statement implies that somewhere down the line, the US regulator will look to protect investors from the surge of joke coins that are emerging every week under the umbrella of meme coins such as DOGE, SHIBA, and FLOKI. A quick search under the latter alone throws up around 30 coins with names such as: FlokiFrunkPuppy, Rotten Floki, and Baby Space Floki.
Investors need to tread carefully in this space as we saw with the recent pump, lock-in, and dump with the Squid token.
In other regulatory news, the US House of Representatives has included a cryptocurrency provision in the current infrastructure bill that has been sent to the President. 
The crypto industry was particularly concerned about a tax reporting requirement within the bill that seeks to expand the definition of a broker for IRS purposes. The reporting requirement would see all brokers report transactions and crypto enthusiasts are worried about its wide reach. This is one of the threats to the industry as lawmakers circle their wagons and apply heavy-handed rules despite a basic understanding of the ecosystem.
Bitcoin is trading around $65,500 at the time of writing with the all-time high at $66,999. 
BNB
Binance Coin saw a 20% gain on the week as the coin recovered from the bearishness of May and September.
The first bout of weakness was driven by the plunge in BTC, but the second was related to the crackdown on exchanges by China and subsequent warnings for Binance from the UK and Japanese regulators.
Binance as a company has allowed employees to work remotely since it was founded, in a style which the co-founder, Yi He, said was "futuristic."
"Maybe we are years ahead of the time," she told Business Insider. "Now everyone is working from home."
Ms. He also commented on the rise of meme tokens, saying that "These began for fun. I don't think it's a long-term situation."
The latest bull run is supporting BNB with increased demand, and exchanges such as Pancake Swap, which deliver the meme tokens via BNB and Wrapped BNB are playing a large part in that demand.
The price of Binance Coin is approaching its all-time high near $700 and that may be a concern as BTC also probes its ATH in what is becoming increasingly speculative, whilst flying in the face of regulatory scrutiny.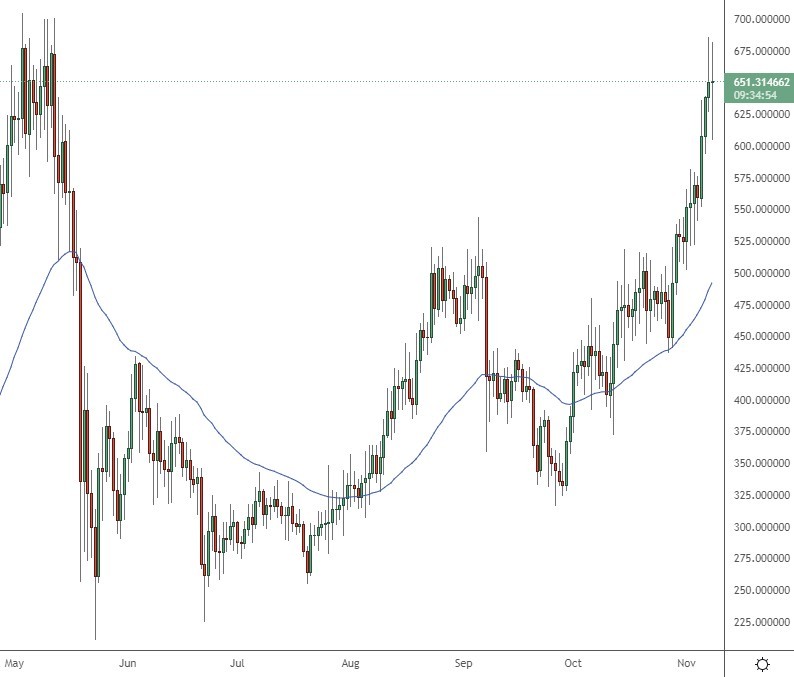 PARA
An interesting development has been the move of Silicon Valley venture capital giant Sequoia Capital backing a seven-figure token round for decentralized finance (DeFi) lending project Parallel.
The investment round values the Polkadot-based protocol at $250 million and comes two weeks after the company said it would start targeting more cryptocurrency plays. Fellow venture capital giant Andreessen Horowitz also did the same in 2019 and the move could see copycat funds chasing other coins. Sequoia partner Josephine Chen said:
We are incredibly excited about the vision and potential of DeFi.
She added that Parallel is positioned to help "legacy firms" adopt the crypto ecosystem with DeFi toolkits for retail and institutional crypto clients. 
The startup was given a $150 million valuation in August and has increased its user base 400% since then.
KDA
The best-performing coin of the week was Kadena with a gain of over 200%.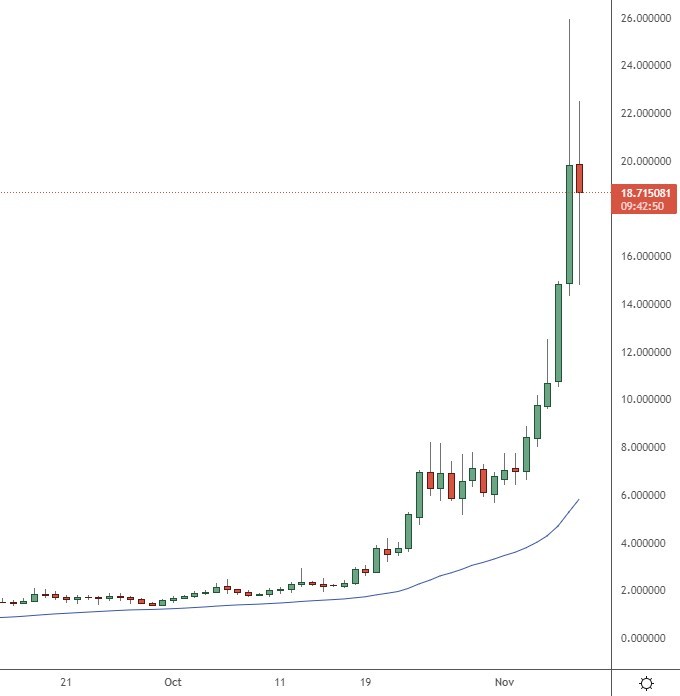 The Brooklyn-based crypto project was launched in January last year and was founded by two former JP Morgan employees: Stuart Popejoy and Will Martino.
The key component of Kadena is the company's private chain "Kuro", a public chain, and an open-source smart contract language called "Pact" that allows anyone with a fair understanding of programming to draft their own smart contracts. 
The project claims it is more affordable and scalable than its competitors and offers a huge 480,000 TPS, compared to Solana's 50,000 TPS, or Ethereum's 14 TPS. 
The Kadena blockchain combines 20 sub-chains to support transactions and has increased the blockchain's hash rate by a factor of twenty.
The coin has rocketed from $2.00 in October to hit highs near $26.
4 total views, 2 views today