Bitcoin Vaults Over $60k as ETF Gets SEC Approval, ETF, BSV, SHIB, Oct. 18
BTC
The Bitcoin price jumped above the key $60,000 level last week after the Securities and Exchange Commission (SEC) finally gave the go-ahead for a Bitcoin futures-backed Exchange Traded Fund (ETF).
ProShares will launch the long-awaited BTC fund on Tuesday after SEC approval on Friday and the company confirmed the move with an SEC filing on Monday.
With the SEC having to decide on applications from dozens of bitcoin ETFs, the regulator's Chair Gary Gensler made it clear that funds that are backed by futures have more chance of approval.
Investors are hoping that a Bitcoin product listed on the New York Stock Exchange will add to investment flows into the coin.
Institutional money has already been flowing into BTC ahead of the recent news and interest in BTC futures is now at a record high on the Chicago Mercantile Exchange (CME).
The value of open interest (OI), or the number of futures contracts open, stood at $3.64 billion on Friday, which has doubled over the month, according to bybt. The previous all-time high of $3.26 billion was set during the bull market run in February.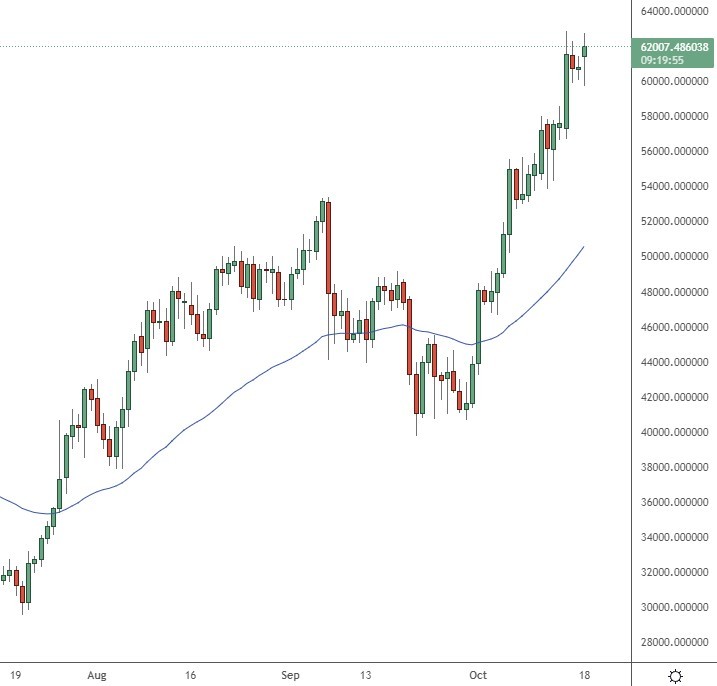 The all-time high in Bitcoin was above $64,000 in April and last week saw the coin jump to highs of almost $63k, before retracing to $60,885 on Monday.
ETH
Ethereum and other altcoins are underperforming the price of Bitcoin but analysts at investment bank UBS expect a revival from ETH.
ETH haws also suffered from the rise of DeFi- and NFT-driven competitors with increased demand for faster and cheaper blockchains. But according to UBS strategist James Malcolm, that could soon change thanks to the work being done on the Layer 2 scaling solution, Optimism.
In the bank's Crypto Compass publication, Malcolm and other analyst said: "having been all but forgotten, it suddenly seems set to give leading competitor Arbitrum a run for its money. OVM 2.0 promises faster processing, cheaper gas prices and fewer code constraints, which should encourage smart contract deployment."
The new upgrade has just been implemented on Ethereum's testnet and is scheduled to go mainnet-live in just two weeks, on October 28th.
Another interesting factor for the cryptocurrency market is that this is not at just small retail investors setting the price. Whales are driving prices at ever-increasing rates with the mean-to-median transaction size ratio at its highest level since 2013.
The bitcoin supply held by large investors is now at the highest it has ever been at around 8m coins (out of a total 21m), while both exchanges and OTC desks have seen their holdings decline. Also notable, the collapse in bitcoin supply that was last active less than 3 months ago as increasingly more are truly HODLing.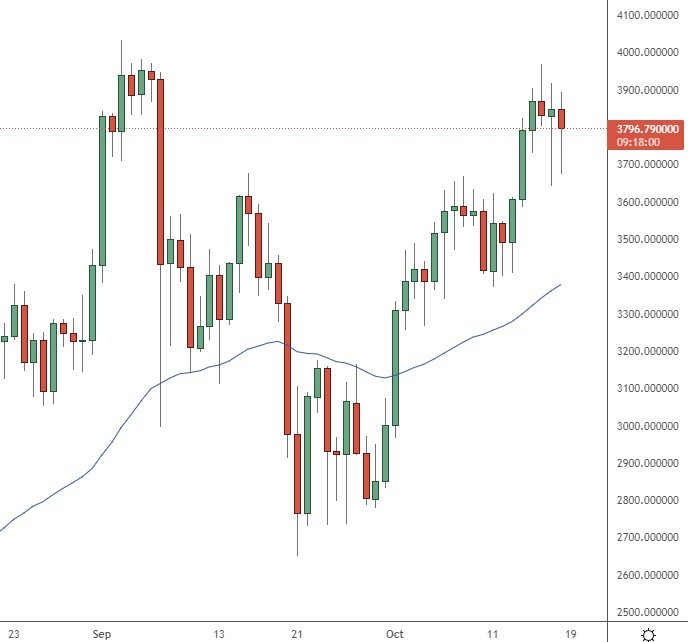 Ethereum now trades at $3,700 but is below the all-time high set in
STX
The top-performing project of the week was Stacks, with the STX coin rallying on the back of Bitcoin's recent success.
Stacks has seen support because of the projects ability to bring smart contracts to Bitcoin, but the latest move has been into Bitcoin NFTs. This is unconventional because Bitcoin doesn't natively support smart contracts, and most of the NFT market runs on Ethereum.
The Stacks blockchain provides smart contracts, but all of the transactions are settled on Bitcoin. Stacks founder Muneeb Ali described it recently as "Layer 1.5", distinguishing it from Ethereum Layer 2 solutions like Arbitrum or Polygon.
"I view Bitcoin as the best, most decentralized money layer," Ali told Decrypt. He also added that 1% of all of the Bitcoin in circulation is now issued as wrapped Bitcoin (wBTC) on Ethereum.
That clearly means that there's demand for using Bitcoin in smart contracts… Instead of trying to bring Bitcoin in a wrapped fashion to some smart contract chain, why don't you bring the smart contract functionality directly to Bitcoin?
The STX "layer 1.5" tech is now bringing DeFi projects to BTC, which will allow holders to lend, borrow, and swap assets on decentralized protocols without converting their BTW itno tBTC or wBTC and dropping it onto Ethereum.
That's appealing Bitcoin maximalists who see BTC as the true decentralized money and a superior store of value.
For true Bitcoin DeFi, or true Bitcoin applications, you need to give them an experience where they're actually interacting with literal Bitcoin on the Bitcoin chain. And those are the type of applications that Stacks enables.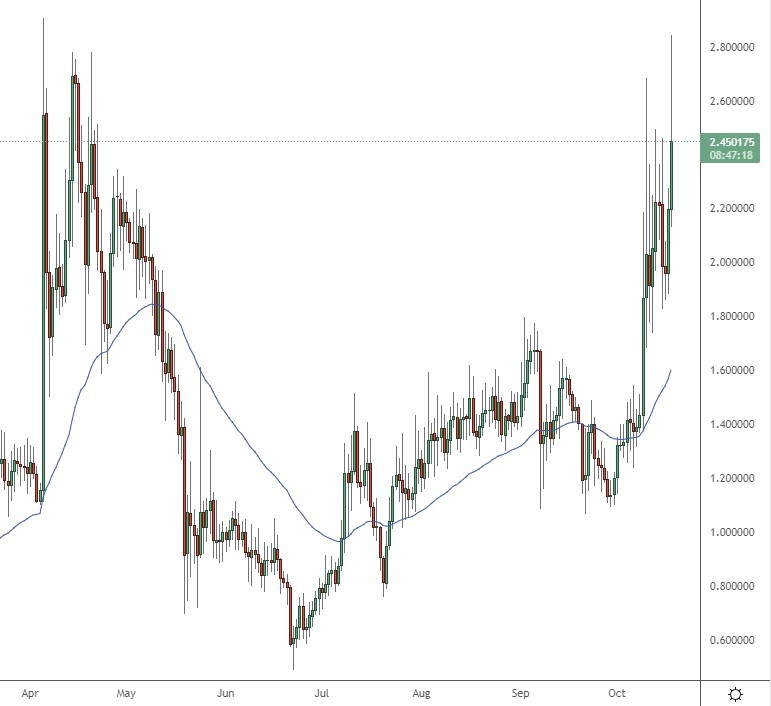 The price of STX has rallied to its all-time highs near $2.8 but the project could just be getting started if Bitcoin dominance and institutional investment continue higher. Stacks currently has a market cap of $3.15 billion.