Ethereum Price Tests Recent Highs as BTC Cools, MANA, SAND, SHIB, Nov. 1
ETH
The price of Ethereum outperformed Bitcoin this week with the world's second largest currency gaining 3%, while BTC dropped almost 2.7%.
The Bitcoin price has faded after seeing new all-time highs above the $66,000 level and some profit-taking has set in for the market after the Exchange Traded Product news. 
Digital assets products saw a total of $288 million in inflows during the week ending Oct. 29, a report by CoinShares showed. That's down from the record $1.47 billion during the prior week, but it helped to add further inflows to a total $8.7 billion for the year to date.
Inflows into U.S.-based ETFs also slowed as the initial hype that accompanied the product launch faded. The new ETF vehicles added only $53 million of assets last week. The first Bitcoin futures ETF, the ProShares Bitcoin Strategy ETF, started trading Oct. 19 under the ticker BITO and quickly gathered over $1 billion in assets – the fastest-ever ETF to reach that milestone.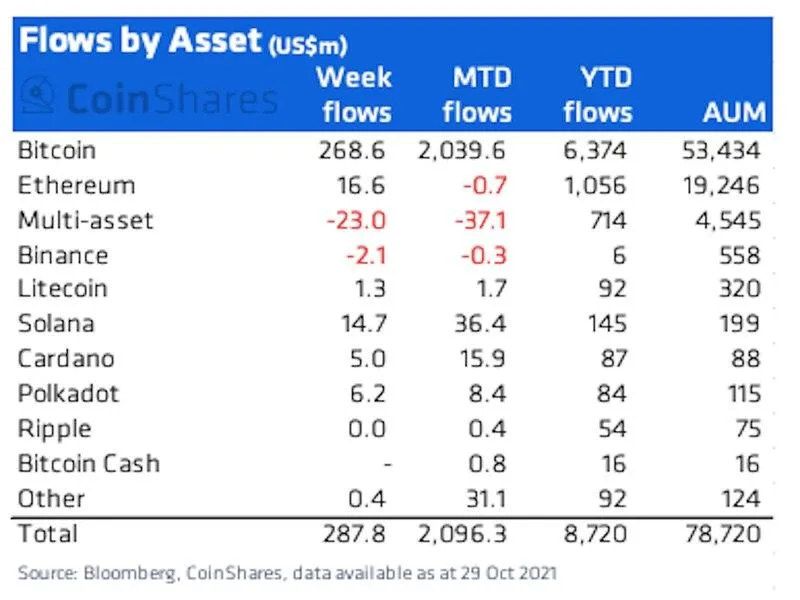 I stated in a previous analysis that the largest gold ETF draws only around $58 billion of investment currently and the initial comments surrounding the "$6 trillion" ETF investment space were exaggerating the potential for BTC flows by professionals.
Ethereum is now trading at $4,329 after recent highs above the $4,400 level. 
MANA
Decentraland was one of the strongest projects this week with the MANA coin up over 260%.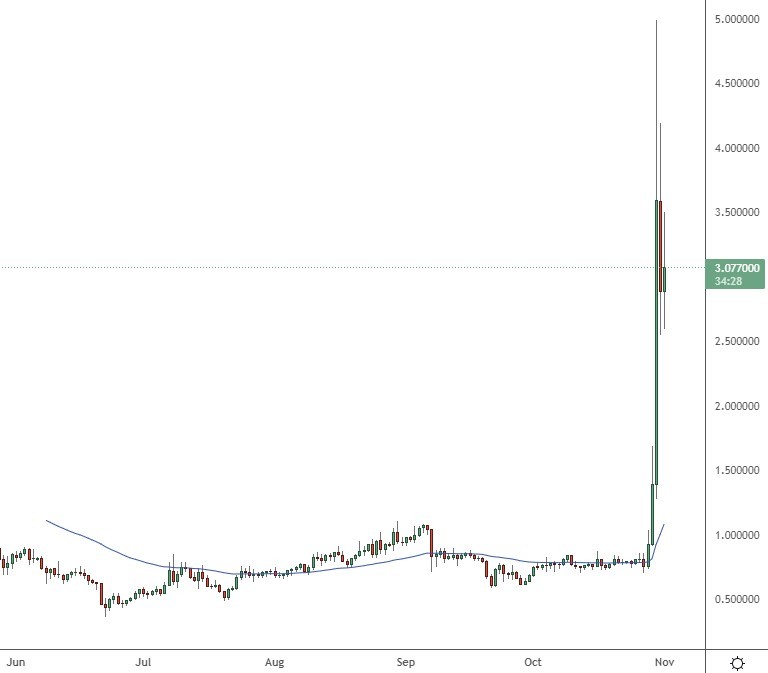 The project hosts a virtual reality world on the blockchain and has been boosted by the Non-Fungible Token (NFT) craze. However, last week saw the coin rocket after the rebrand of Facebook to Meta. 
The Facebook social media platform decided to change its name to META with a new ticker of MVRS on the 1st of December. The rebrand is part of the company's drive to focus on building the metaverse. The social media giant has nothing to do with Decentraland, however, that didn't stop investors plunging into the coin.
Several Metaverse-related crypto projects rallied over the last few days following Facebook's announcement as the tech giant turns its focus to virtual reality.
In the virtual decentralized world, it is possible to buy, sell and rent parcels of land (16m x 16m each) which are a limited commodity with only 90.000 pieces for sale. The most expensive piece of land sold for $270k while multiple others have been priced over $100k each. 
A popular location, near a plaza or a densely populated area, can also be used to create games, exhibitions, or open a business that sells NFTs. Casinos and gambling sites have also been popular with Samsung and Atari sponsoring stores. 
SHIB
Shiba Inu continued to see gains with a near 70% improvement on the week.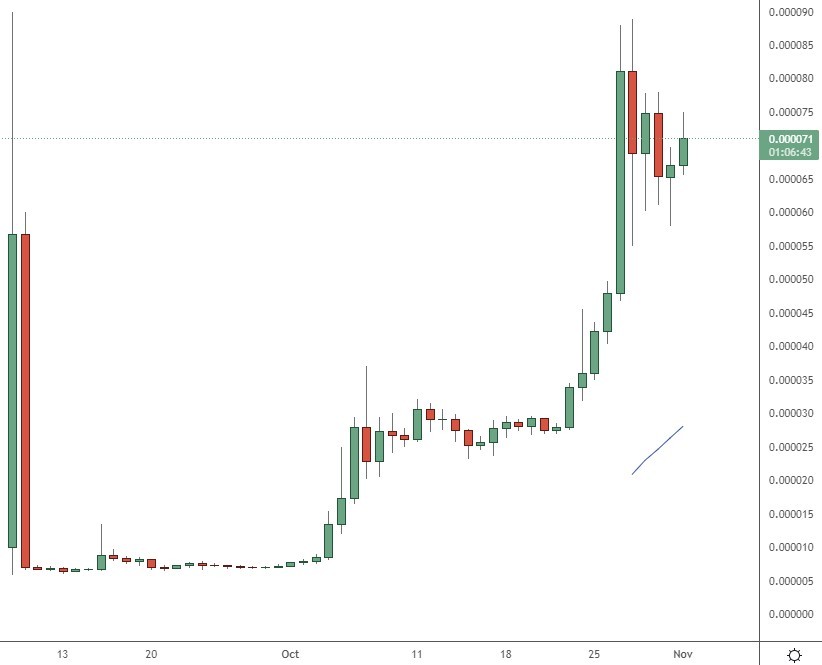 However, the price action looks tired on the daily chart and SHIB may retreat from here. One reason for that is that yet another meme coin has emerged with Dogelon Mars rising over 300% this week. 
Shiba Inu actually surpassed Dogecoin this week by reaching a $40 billion valuation.
Lee Reiners, an outspoken crypto skeptic, teaches fintech and cryptocurrency courses at Duke University School of Law. Reiners said he's not surprised by Shiba's recent spike.
This is what happens when you have massive speculation in assets with no intrinsic value. 
Shiba Inu is ranked at number nine in the list of coins, while Dogecoin is at number ten with a $35 valuation. 
SQUID 
Another speculation crypto sensation turned sour for investors after a coin based on the Netflix Squid Games series produced a 'pump and dump' mess. 
 CoinMarketCap issued this statement:
We have received multiple reports that the website and socials are no longer functional & the users are not able to sell this token in Pancakeswap. Please do your own due diligence and exercise extreme caution. This project, while clearly inspired by the Netflix show of the same name, is not affiliated with the official IP. 
The Squid Game token rocketed from around 1 cent on Tuesday to trade around $38 late Sunday, according to CoinMarketCap's own data. The price then rallied to $90 early on Monday with a brief spike to above $2,800. The coin has since crashed back down to earth with a price of $0.003.
An address has since traded in the SQUID tokens for BNB tokens worth over $2 million.
Alarm bells had started when the coin soared over the weekend, but holders could not sell their tokens.
Ironically, the Netflix show, Squid Game depicts characters who are willing to put their lives on the line for a shot at a better financial future.